Discourse
Founded in 2010, Metrocology is a consultancy firm offering planning, coding, urban design, development and re-development positioning services to public and private sector clients in partnership with like minded professionals, developers and government agencies.
Our team offers a unique set of expertise on a variety of topics within the category of the urban realm, and our work explores a diverse collection of solutions to the issues affecting our cities and towns. We encourage and enjoy participation in a thoughtful dialogue on related topics.
Metrocology is proud to contribute to the ever-evolving discourse on the design and development of the built environment. Through a variety of mediums, the portfolio of Metrocology serves as a platform by which the future of our communities can be considered.
Included here are a selection of examples:
Gaston towns study future of Wilkinson Boulevard
When Wilkinson Boulevard opened in 1926, a Charlotte Observer writer described it as "a showplace of the South." Today, Wilkinson Boulevard lacks the luster it once possessed. But a group of Gaston County towns hopes a new planning effort can restore some of the boulevard's reputation.
Wilkinson (U.S. 29/74) was North Carolina's first four-lane highway. The corridor was designed to connect the banking city of Charlotte to the textile factory region of Gaston County. Today, the boulevard also provides direct access to Charlotte-Douglas International Airport and uptown Charlotte.
Read more here:
http://plancharlotte.org/story/gaston-towns-study-future-wilkinson-boulevard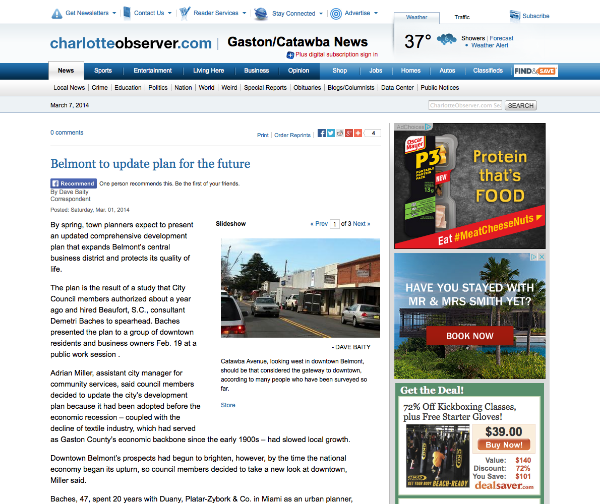 Belmont to update plan for the future
New Vision: Beaufort county council approves Civic Master Plan
A Civic Master Plan outlining a vision of how the city of Beaufort could grow and develop during the next century was approved Tuesday night on a 4-to-1 town council vote.
Councilman George O'Kelley Jr. was the lone vote against it.
The plan outlines development of vacant and important properties; road and transportation changes; access to water; stormwater needs; parks; and areas targeted for economic development...
Read more here:
http://www.islandpacket.com/2014/02/11/2941914_beaufort-civic-master-plan-final.html
Columbia reaches key agreement with developer for vast Bull Street neighborhood
The long-awaited agreement that spells out Columbia's public investment in the proposed Bull Street neighborhood carries a price tag that likely will reach $70 million, but it includes pledges by the developers to produce what they propose.
City Council will vote during the next two weeks on the 130-plus-page document and on an initial commitment of at least $31.25 million in public money during a 20-year construction schedule...
Read more here:
http://www.thestate.com/2013/06/24/2832941/columbia-reaches-key-agreement.html
Commission approves Bull Street Plan
Columbia's Planning Commission on Monday approved Hughes Development Corp.'s revised plan for the development of the 181-acre Bull Street tract that includes the state's historic mental hospital building.
Greenville-based developer Bob Hughes has been negotiating for months to win greater flexibility in developing the large urban tract, which he estimates may take as long as 20 years to complete. Hughes had sought a strong hand to revise the plan over the coming years in a city that has traditionally exercised veto power over minute changes in approved plans for urban development.
A key change in the plan is the makeup of the Consolidated Review Committee, which will be empowered to approve or reject minor variances in details set out in the development plan, such as parking requirements. Hughes had sought to control appointments to that committee. But in the plan approved Monday, the review committee will comprise members of the city's planning department staff...
Read more here: http://gsabusiness.com/news/45152-commission-approves-bull-street-plan?rss=0
Weiti village development on track
A new village of 550 houses at Weiti has resource consent and construction is due to start soon.
The village south of Stillwater is part of the 860 hectare Weiti Block, purchased for $163 million several years ago, and is being developed by Williams Land.
With surrounding forestry and farmland retained, the block will act as a green belt. The village comprises three different-sized residential clusters...
Read more here:
http://www.stuff.co.nz/auckland/local-news/rodney-times/8059443/Weiti-village-development-on-track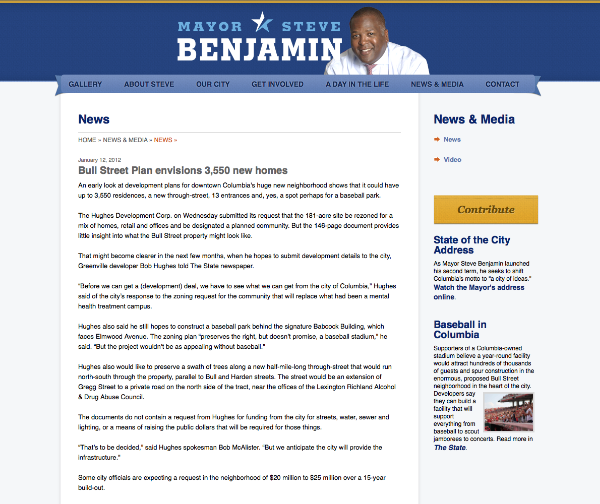 Bull Street Plan envisions 3,550 new homes
...Mayor Steve Benjamin described the plans for Bull Street as "the single largest neighborhood project in our city's history."

Demetri Baches, a Beaufort consultant who specializes in city planning and urban design, helped craft the document that was submitted to Columbia's planning and development office.

The request for a "planned unit development" designation codifies what Hughes has been discussing with city officials, city council members and neighbors in the vicinity, Baches said Wednesday.

"It doesn't get into the nitty-gritty stuff because that's unknown," he said, referring to the lingering impact of the recession. "You can't say what will be on the ground. But you can say what you want on the ground..."
Read more here: http://www.stevebenjamin.com/news__media/news/news/25/
Weiti block plans finally revealed
A 400-lot residential development in a hidden valley, a 150-lot gated community in Karepiro Bay, yacht club and golf course are among the plans for the 900ha Weiti Block in the green belt between Stillwater and North Shore.

Williams Weiti Ltd chief executive Evan Williams unveiled the plans at a meeting of the Stillwater Residents & Ratepayers on May 22 receiving a largely positive response from residents.

Mr Williams says the company has been working behind the scenes over the past year to finalise zoning changes and resource consents for the development, and expects work to begin on the roading and infrastructure in September...
Read more here: http://www.localmatters.co.nz/Hibiscus+Matters/Hibiscus+News+Archives/News+-+June+1+2011/Weiti+Block+plans+finally+revealed.html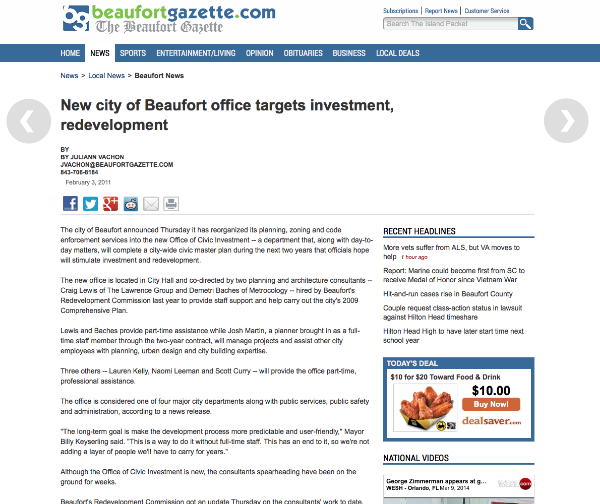 New city of Beaufort office targets investment, redevelopment
The city of Beaufort announced Thursday it has reorganized its planning, zoning and code enforcement services into the new Office of Civic Investment -- a department that, along with day-to-day matters, will complete a city-wide civic master plan during the next two years that officials hope will stimulate investment and redevelopment.
The new office is located in City Hall and co-directed by two planning and architecture consultants -- Craig Lewis of The Lawrence Group and Demetri Baches of Metrocology -- hired by Beaufort's Redevelopment Commission last year to provide staff support and help carry out the city's 2009 Comprehensive Plan.
Lewis and Baches provide part-time assistance while Josh Martin, a planner brought in as a full-time staff member through the two-year contract, will manage projects and assist other city employees with planning, urban design and city building expertise...
Read more here: http://www.islandpacket.com/2011/02/03/1535126/new-city-of-beaufort-office-targets.html#storylink=cpy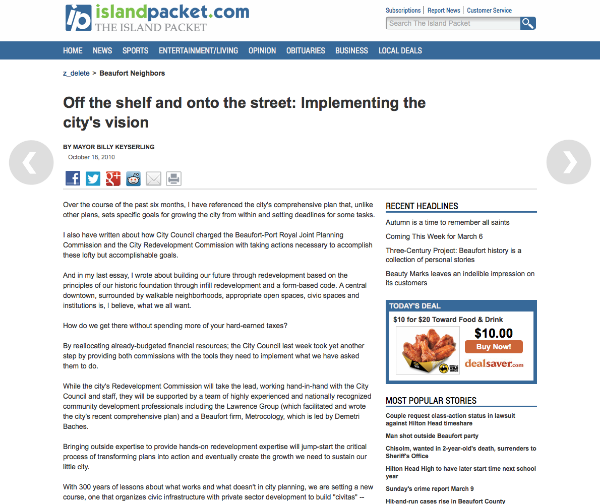 Off the shelf and onto the street: Implementing the city's vision
...the civic master plan will establish principles and standards that all public and private development will follow. The team will identify and promote investment and reinvestment opportunities, block by block, in each neighborhood throughout the entire city, not just one or two neighborhoods. Each neighborhood has its history, unique character and physical attributes upon which we will respect, build upon and not destroy.
The civic master plan will be visual and will give residents and businesses a clear picture of what is intended: Expectations will be set; there should be less guessing about what works and what does not work; and we will, in effect, have a tool to use to stimulate various development and/or redevelopment opportunities throughout Beaufort...
Read more here: http://www.islandpacket.com/2010/10/18/1412126_off-the-shelf-and-onto-the-street.html#storylink=cpy
Think-tank shapes Papamoa satellite town
A satellite town planned for Papamoa East will be built on the basis that everything will be within a five-minute walk or cycle-ride.
A huge "charrette,'' or think-tank, is under way at Papamoa Surf Club with the aim of ensuring that the 25,000 people in the 340ha town can live most of their lives within a short distance from home. Cars will become less important and residents will be encouraged to communicate with their neighbours as part of a "village'' lifestyle.
Under the scheme, residents will be able to walk or cycle to the beach, theatres, cinemas, library, schools, shops, emergency services and health providers. Houses will face reserves, giving a sense of community.
The charrette involves intensive discussions with representatives from every aspect of planning about the future shape of the town. They include iwi, architects, cultural groups, education, business, Government departments, builders and community groups. Throughout the process, ideas are constantly being transferred on to a plan by a large team of designers, then taken back to the charrette for further discussion and alteration...
Read more here: http://www.nzherald.co.nz/bay-of-plenty-times/news/article.cfm?c_id=1503343&objectid=10914816
Five Mile - A Whole New Sustainable Town
...The $2.2billion project 33 hectare FIVE MILE Township, sited in Queenstown will include over 700,000m2 of mixed use, office, retail, commercial, hotel, apartments and sports and educational facilities and 8000 underground car park. Population numbers are expected to be in excess of 10,000 residents and 5,000 transient population. Included in the mix are also a campus for an international university and a regional bus station, town hall, department stores, grocery stores, cinema, and hotels will serve to anchor the main streets and town centre.
It is the first town in New Zealand where all buildings shall be designed with an intent to achieve a minimum of 4 star Green Star design rating. In addition numerous buildings shall be designed in an intent to
achieve a 5 star rating and the town will hopefully provide the first 6 star rated buildings in New Zealand. (The project is currently in the early rounds of discussion with the New Zealand Green Building
Council and is working towards a rating which if achieved will be a very pleasing result for the project.)...
Read more here: Five Mile - A Whole New Sustainable Town
Metrocology - Five Mile presentation
A town centre proposal, presentation delivered by Demetri Baches, for a suburban infill site in the Frankton Flats area outside of Queenstown, New Zealand.